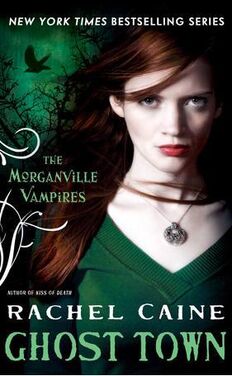 Ghost Town (2010) is the ninth book in the Morganville Vampires series written by Rachel Caine
The fragile peace between humans and vampires in Morganville is in trouble, and when Claire takes drastic action, she's put under serious pressure to re-establish the barriers that keep the town residents inside, and wipe the memories of those who leave. But working with her half-crazy vampire boss Myrnin means that things don't always turn out as planned ... and as the people of Morganville begin acting strangely, Claire and her friends must solve the mystery and try to put things right. But one by one, her allies are turning on her ... even the ones she trusts most.
Key Plot Points
Edit
Key Plot Points that advance the story
Key Characters
Edit
See Also
Edit
Cover Gallery
Edit
Ad blocker interference detected!
Wikia is a free-to-use site that makes money from advertising. We have a modified experience for viewers using ad blockers

Wikia is not accessible if you've made further modifications. Remove the custom ad blocker rule(s) and the page will load as expected.