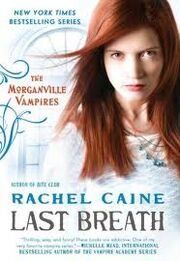 There is a question Claire has long been asking: why do vampires live so far out in a sunny desert when they're sensitive to sunlight? The reason doesn't have to do with sunlight but water - and an ancient enemy who has finally found a way to invade the vampires' landlocked community. Vampires aren't the top predator on earth. There's something worse that preys on them ...something much worse. Which means if Claire, and Morganville, want to live, they will have to fight on to the last breath.
With her boss preoccupied researching the Founder Houses in Morganville, Claire is left to her own devices when she learns that three vampires have vanished without a trace. She soon discovers that the last person seen with one of the missing vampires is someone new to town-a mysterious individual named Magnus. After an uneasy encounter with Morganville's latest resident, Claire is certain Magnus isn't merely human. But is he a vampire-or something else entirely?
Key Plot Points
Edit
Key Plot Points that advance the story
Key Characters
Edit
See Also
Edit
Cover Gallery
Edit
Current: Last Breath (2011)
Ad blocker interference detected!
Wikia is a free-to-use site that makes money from advertising. We have a modified experience for viewers using ad blockers

Wikia is not accessible if you've made further modifications. Remove the custom ad blocker rule(s) and the page will load as expected.